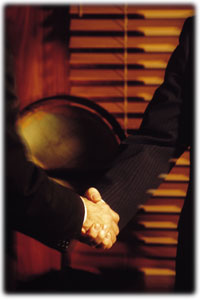 Today's changing markets, globalization, and economic environment provide unique challenges and opportunities for creative, competitive technologies and innovations. Forward-thinking companies are tasked with end-to-end management and strategic planning that includes research, analysis, forecasting, solution development and funding. Often challenged by resource constraints and competing priorities, your capabilities can be limited. At Initiatives Worldwide, we understand your needs and can help you create and manage a strategic solution to meet your goals.
Our team is positioned to partner with organizations, enterprises and entrepreneurs to develop and achieve their mission.
Your Mission Is Our Mission.
Partnering with Initiatives Worldwide provides you:
Qualified professionals with years of consulting and management experience in diverse industries
The ability to optimize your return on investment
Knowledge of state-of-the-art industry practices
Experienced change agents
Techniques in client, shareholder and employee relationship management
Methodologies for increased productivity and efficiency
Uncompromising commitment to your success